Spiritual Guidance, direction & advice to support your journey
You never have to live in a state of confusion or feeling lost or stuck!
There is always a spiritual solution to every earthly challenge.
​

Life path readings are empowering by offering  you an
opportunity to gain further insights into your true direction
and shows you a way forward. 
We all have free will and this must be used by you to
determine which direction feels right for you.
Spirit does not tell you what to do.  They advise, guide and
offer you inspiration to dopt and adjust to your life. 
When you book your reading, I advise that you are open to
 listening and contemplating the guidance you receive.
Come with love and positive intentions of hearing
encouraging, supportive guidance, with  truth and integrity,
 Connecting with a loved one in spirit is a very special moment.
Our loved ones always know what is going on in our lives as
they remain connected to us through the energy of love.

They can often surprise you with little things they say. 

Their messages are simple, down to earth and loving.
When you make your booking, send an invitation out to

your loved ones in spirit to meet you on the day.

Then release your expectations. 
The spirit/s who arrive can be someone you do not expect. 

I do not have any control over that and neither does

any other medium.

Your loved ones want you to know they always love you,

and never leave you.  You are their heaven!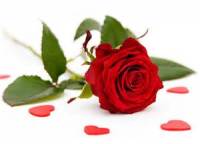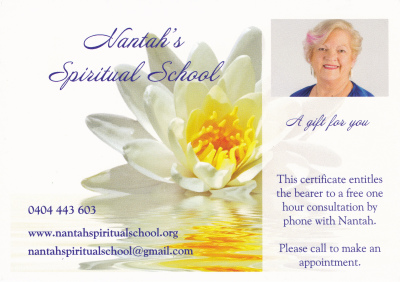 Gift Certificates

are

now available for

a one hour phone consultation

with Nantah 

With love, all things are possible!
Testimonials

 When my daughter told me there was a ghost child in our house who liked to sit in her room I wasn't really sure what I was supposed to do. I was referred to Nantah and agreed to a clearing not really knowing what was involved. When I first met Nantah I remember feeling like I had known her for a long time. I was immediately comfortable.
Throughout the clearing process Nantah explained what she was doing and how the spirit world 'works'.  I found the experience fascinating and was surprised by the emotion I felt as my ghost child visitor passed into the light.
Since then I have recommended Nantah to others who have been equally happy with the advice and positivity that she offers.
​Thank you Nantah for being such a good friend and for sharing your positive energy and many gifts. ​
Thank-you for the amazing reading! It has given me so much strength, and I have listened to it so many times, every time I feel a bit wobbly and start to doubt myself.
It kinda feels like you are the only one who really understands me on the inside, but I have found your reading very reassuring.
I have also been talking to my guides as you suggested and they have been giving me signs through my dreams.
I can't thank you enough, and when I see you again I will give you a big hug!!!
​​A message from a loved one in spirit helps to fill the deep void that grief leaves. Your love and connection is gone. You are never going to see them physically again, talk to them, hug them or enjoy them in your life anymore.


When a clairvoyant medium gives you that connection it begins the healing process. It takes the loneliness and the hollow feeling of missing them away. 
People don't understand there is life after death and that our loved ones never leave us and are around us all the time.

Judi,  New Zealand  
Thank you so much for taking time to travel down to Melbourne and work so hard for so many people. I was once again amazed to watch you work the room during our open sessions. Your accuracy is incredible.
I love your Medium work. I especially enjoyed your Medical Intuitive side this time. Once again, just so accurate. A lot of people are over the moon with what you did for them and the healing you ultimately gave them.
Thank you again for everything
  Thank you so much for your reading and also the time Paul and yourself gave me when I delivered the piece of artwork, generally talking, giving me more insight and answering any questions. I am grateful and appreciative for everything you have given me. It is wonderful to have such a beautiful path to live. I know there is a lot of work I need to do personally to take this on, but I also know I have all the support, love and protection I could ever need. The future looks unbelievably exciting! 
Another thing I had been remembering since I had started painting the artworks for people, was what you had told me in 2012. You stated that I would paint a commissioned artwork, back then I trusted what you said to be true, but had no idea what I would be painting (certainly not Aboriginal Art) and how that would come about. Today it would seem I have the answer to that. Amazing Nantah, truly amazing. 
​

Regards Tim,   Sydney 2016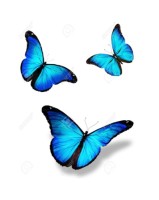 I found my reading with you very, very, powerful and uplifting. I feel the understanding you explained to me of my soul and love history I received has changed the way I see my life and has helped begin to heal an old, but deep wound on my heart. It's like you turned a light on for me, so I wasn't in the dark.
​
You gave me clarity, that made perfect sense, where no one else has ever been able to explain it to me, and it's been a painful cloud over me for more than 20 years.
​
I feel so much more at ease now and accepting of what is. Thank you from the bottom of my heart.


Pieta, Sydney, Australia 2017


The information you told me at the recent Mind Body Spirit Festival in Sydney was amazingly spot-on!  You described a Great Aunt to me in detail including her name, how she was related to me, and when and where she lived.  You were very specific and definite in your reading.  I recognised the name of my Great Aunt, but it wasn't until I spoke to my father that I realised the accuracy of your message. 
Your words were further confirmed last night when I happened to phone my Aunt on the other side of the family who had no knowledge of my visit to you.  Her opening words repeated the message you relayed to me, from my Great Aunty Ivy!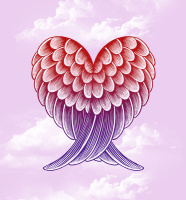 Readings by appointment

* Hours For Face to Face Sessions.
   Tuesday & Thursday    9.30 am to 2.30 pm 

   Wednesday & Friday    9.30 am to  8.00 pm 

   Face to Face are held at Victoria Avenue, Castle Hill

* Hours For FaceTime Sessions.
   Tuesday to Friday    9.30 am to 5.30 pm         

* Saturday 10.00 am to 5.00 pm   Skype or FaceTime only

* Sessions are 30 minutes $90.00  or  45 minutes  $130.00​​. ​

Please include  the following on the form below

*   Your details
*   The type of reading you require

​

*   Select from ~ Face to Face, Skype or FaceTime
*   Two choices of days and times that suit you from the options  listed.
*  Payment for online sessions to be made 2 business days prior to                session. Payments accepted by Bank Transfer and PayPal.